UV Wireless Phone Fast Charger
Regular price
$ 99.95 USD
Sale price
$ 59.99 USD
/
 You charge and use your phone every day, but when was the last time you cleaned it?
We are happy to announce , a convenient solution to charging and sanitizing your phone all at the same time. Let UV Wireless Charger enhance your overall health and lifestyle by taking a modern approach to sanitization.
How does UV Wireless Charger sanitize?
UV Wireless Charger uses non-harmful UV-C light to kill any bacteria that lays on the surface the UV-C light comes into contact with.
UV Wireless Charger features a 253.7 nm cold cathode UV germicidal bulb, which emits a wavelength of light strong enough to destroy the molecular bonds that hold bacteria and viruses DNA together. This kind of conventional UV light is routinely used to decontaminate surgical equipment. 
Your phone has 18x more bacteria than a public restroom.. Yuck!
 UV sanitization kills 99.99% of germs
Charge your Iphone or Android device wirelessly 
Safely sanitizes everyday items with non-harmful UV-C light
Product specification
Material: ABS+PC
UV-C Bulb: 253.7nm cold cathode UV germicidal lamp
Wireless charging effective distance: 3-6mm(max)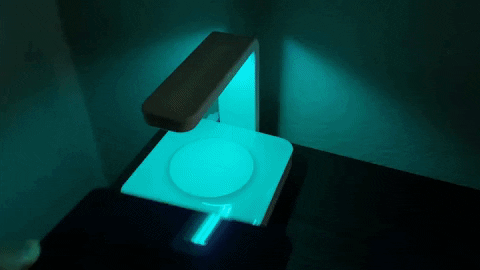 Sanitizing process:
After placing your mobile device in the middle of the cross on the lamp base, your phone will begin charging until it is 100% charged. After fully charging, UV Wireless Charger will go into trickle charging mode, so there is no need to worry about over charging your device. UV Wireless Charger can also sanitize everyday items such as car keys, glasses, and so much more. When you are ready to sanitize: 
UV Wireless Charger has 2 sanitization modes:
-15 minute working lamp time (one button click)
-25 minute working lamp time (two button clicks)
Depending on what you are sanitizing, you can choose the setting you desire and let UV Wireless Charger turn off on its own signaling that your sanitization is over. While UV Wireless Charger can only sanitize one side of an object or phone, we recommend you flip your device or object over after its first light cycle, and repeat for full disinfection. 
Universal Charger:  also features a USB output for wired charging
Included in purchase: UV Wireless Charger Lamp, 1 USB power cable, and 1 user manual
Conveniently sanitize and charge

Our mission is to provide modern and effective cleaning solutions to help stop the spread of illness-causing bacteria on your devices and everyday items. UV Wireless Charger is the perfect solution to sanitizing and charging your phone. With its modern and practical design, UV Wireless Charger can be placed anywhere from an office desk, to a nightstand next to your bed. All it takes is a few minutes, and a full nights charge to wake up up to a clean, ready to use phone.
Sanitize Safely 
UV Wireless Charger
 uses UV-C light to kill germs and bacteria without the use of chemicals or liquids.
Charge wirelessly
Whats better than sanitizing with UV-C? Sanitizing AND charging your phone at the same time.
THIS PRODUCT IS A LIMITED PRODUCTION, AND IS NOT AVAILABLE IN STORES. WILL SELL OUT FAST!

OUR 5 POINT CUSTOMER PROMISE
1. 30 Day Money Back Guarantee
2. Tracking number for every order
3. Safe payments with PayPal® & Stripe® Card Payments - Worldwide trusted payment processors.
4. Real people on our internet helpdesks
5. Low Cost Shipping with Insurance
We use Banking Level Encrypted SSL Security for 100% protection.